Customer Testimonials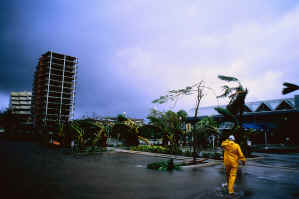 The following are representative of comments we've received from our customers. They speak to the comprehensiveness, reliability and versatility of our products and service offerings.
"Used the program during the complete hurricane season and it provided me and the Mobile government decision makers with valuable information on evacuation and sheltering timing. Its ease of use was of great benefit to several new employees"
"All Systems working well-- best thing since a shirt pocket"
"..thanks for all your hard work on our behalf in the EM field...what you provide makes a big contribution to our evacuation efforts."
"It was integral to our weather support efforts during each hurricane event. Governor Hunt found our ability to step through a forecast animation very valuable."
"...you have a great product that gives me the edge on the information curve to keep to employees of my organization looking toward the Cityís emergency management office for their information. Iím no control freak but it helps when youíve got something they canít get from the news or the internet. That kind of communication not only allows for accurate, update informationÖit also allows for other instruction and information pertinent to our Cityís preparedness, response, and recover to be past on to them."
"Your service was exceptional, I applaud your dedication"
"Just wanted to drop you a quick line and thank you for the outstanding support. It is great to work with a person that listens to the customers needs and responds........"
"The program is easy to use and convenient"
"... feedback on the training modules. I have not been through all of them but the one's I have were extremely helpful. I really appreciate you providing them. Like any other software, as more features are added the complexity of the program increases. The training modules have helped me better understand how to use the program and made me aware of features I had not been using. I hope you continue to refine them and make them available."

"... extremely comprehensive and user-friendly"
"... provides access to information that is presented in a logical format"
"Quickly enabled me to track storms as advisories were issued. Great use of graphics to track different aspects"
"It does everything that I need it to do very well and is user friendly. It allows me to isolate and disseminate the information that my organization needs to see rapidly and efficiently."
"Provides an accurate means of doing forecasts and tracking to evaluate when we need to move our assets and take precautionary measures."
"Your product provides the speed, functionality, and professional output we need to quickly brief the commander"
"The new layout, automated retrieval and email are outstanding. We also used the automatic summary report generator for the first time this year and find it an excellent tool for giving the basics to EOC staffers during an event."
"... along with ONLINE, makes tracking and plotting and analyzing tropical systems obscenely easy and accurate."
"HURRTRAK gave me one stop shopping for climo, plotting, and decision arcs. I am very impressed with this program"
"Very visual and dynamic system for briefings and analysis. The system provides good information and easily accessible."
"The new enhancements to the program were great. Email alerts, automation & integrated HURRTRAK online were useful"
"The program provides a very comprehensive capability to display and, to a lesser extent, analyze the current, predicted and implied effects of hurricanes based on the data provided by the National Hurricane Center. Numerous state and local decision makers, media representatives and visitors from outside the agency have indicated how impressed they were with the graphical and analytical capabilities provided by the program"
"Program runs like it was advertised--many good reviews from my decision makers on it's content and design"
"We used HURRTRAK for the first time this week with Hurricane Floyd. We could not be happier with the results. Our City was better prepared than the County's Emergency Preparedness Division, and better informed, thanks to this program."
HURRTRAK has been widely recognized as the premier hurricane tracking package in most Government circles. George has been tireless in his efforts to improve both the quality and usefulness of his wide suite of excellent analytical products, including StormInfo. HURRTRAK has become an integral component of the monitoring mechanism, for tracking tropical storms, here at the Department of Homeland Security.
Sometime when itís before 5:45 AM or after 11 PM I wonder if anyone notices that Risk Management is making an effort to inform those in management of the forecast tropical weather conditions so they can plan and act rather than react. Itís e-mails like this that makes the efforts all worth while. The VP that sent this e-mail manages operations that process over 300,000 automobiles a year. Thanks to Hurrtrak we have made a difference.
Referenced email... "You guys are doing just a marvelous job of keeping us informed on these storms and their potential impact on us. Thanks to your continual updates I have been able to make operational decisions that I otherwise would not have been able to. I really appreciate your talking with me at my home last night, when I know you had a million other things to do. Thank you so much for your support, itís at times like this we come to really appreciate what you guys do for us!"
You continue to have a great product. I use it extensively at SOCOM, not only for the Atlantic, but for the Pacific too. For Hurricane Charley, the possible number of different graphic views is a tremendous asset when briefing. Fortunately for us at MacDill AFB, the track shifted to the south. I just wanted to say thanks for a great product and especially the data updates using the online feature. Thanks again.
I think we fail sometimes to realize how much we have become dependent on your software and especially the constant barrage of support you throw at it. During both Charley and Gaston, we relied heavily on the data generated by Hurrtrak and it was highly accurate. Winds arrived within 30 to 45 minutes of their predicted times for both storms. Just wanted to pass along our thanks!
I wanted to take just a minute to thank-you for your support during regarding our numerous questions regarding the Advanced Wind Estimates (AWE) feature. I know you were probably flooded with questions, but you still took the time to explain, and re-explain, this new feature. After your explanations, and having had a change to analyze AWE vs. Actual, I am very impressed the the accuracy of this feature. Again, my thanks and appreciation for your time an patience.

It has been a wonderful learning experience to have been a student of PC Weather Products over the past 2 + years. We are much more prepared to deal with tropical weather systems as a result of our association. Thank you personally for your mentoring, knowledge and support; 3,500+ of our associates across the US, 166 automobile Dealers in the Southeast have benefited directly from our use of PC Weather Products.